Cold-formed steel (CFS) plays a key role in safety on many construction job sites. That's because through efficient pre-construction planning, prefabrication and ordering of steel studs in precut lengths, CFS-framed assemblies can be erected quickly with less labor, thereby lowering potential safety incidents on job sites.
These safety points about CFS framing are relevant as construction professionals this year observe Construction Safety Week from May 2-6, 2022. Safety Week is an annual industry wide education and awareness event founded by members of the Construction Industry Safety Initiative and the Incident & Injury Free Executive Forum in 2014.
Here are some examples of the safety benefits of CFS framing:
1. CFS is a Lightweight Material
CFS is the ideal framing choice for construction projects because it is lightweight and can furthermore be ordered cut to shorter, more precise lengths for speedy installation on job sites.
Using lightweight materials can affect the health and safety of crews for the better by reducing injuries related to worker fatigue, strain and repetitive motion.
2. CFS Frames Quickly with Less Chance of Injury
CFS framing construction is faster than traditional methods, especially when used in prefabrication and construction manufacturing processes. 
Accurate design and engineering software helps to pre-engineer CFS framing. This in turn allows the fabricator to cut the steel to specified lengths, which can also be labeled and pre-dimpled in the production facility.
Workers in the factory need only power drills and fasteners to do their work

No on-site cutting or welding is normally required

Pre-built assemblies are clearly identifiable

Erection of assemblies is fast and simple

Less time on the job site protects workers from heat exhaustion and other heat-related hazards
In fact, building with CFS can take 3 or more months off the schedule of a mid-rise project that uses heavy framing materials, such as concrete and masonry.
3. CFS is 100% Noncombustible
Safety is a key factor in choosing CFS framing for many student housing complexes and apartment building projects. Unlike other construction materials, metal studs are 100% noncombustible, making them eligible for use in Type I buildings where fire-resistance standards are most stringent. 
CFS framing can be part of a defense against fire damage to a structure, whether the structure is under construction or occupied.
Fire safety made headlines in College Park, Maryland, recently, where a 275-unit wood-framed student housing complex suffered $39 million in fire damage while under construction.
Thus, CFS framing can play a key safety role as developers build 4.6 million new rental housing units in the United States between now and 2030 to keep up with growing demand, according to a report prepared for the National Multifamily Housing Council and the National Apartment Association.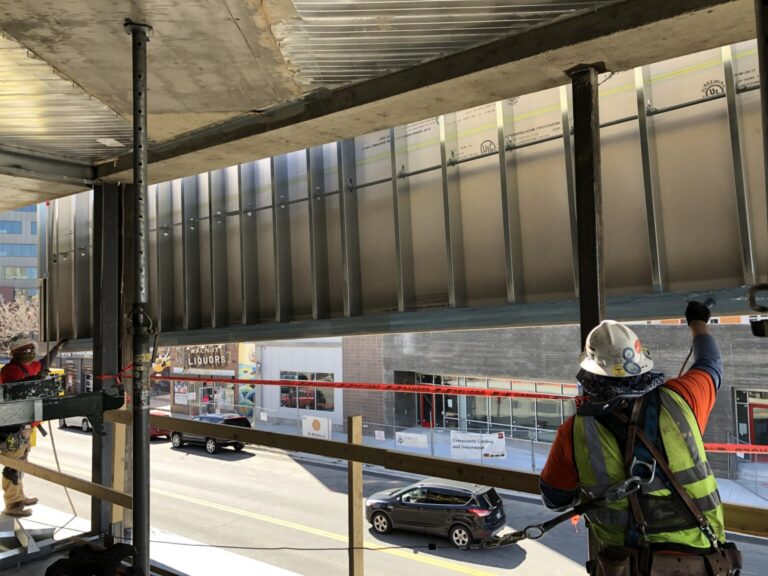 4. Prefabricated CFS Systems Require Fewer Workers
A key benefit to prefabrication of CFS assemblies off site is the reduction of potential safety incidents on the construction site. 
An example of this is South Valley Prefab, Inc.'s work at Catbird, a seven-story, 165-unit, extended-stay hotel in the RiNo District of Denver.
6 Installers, Not 60
South Valley Prefab designed and fabricated 277 individual CFS exterior finish panels for the seven-story, 165-unit project. The exterior skin featuring 100,000 lbs. of CFS studs was installed by only 6 crew members instead of the 60 or 70 crew members that would have been required on the job site, stick-building the exterior off scaffolding.
8 Men, 14 Weeks
Metreau Apartments, a 107-unit complex in Green Bay, Wisconsin, made use of prefabricated CFS framing that saved the developer weeks over post-tensioned concrete construction.
Wall-tech Companies, DeForest, Wisconsin, installed 11,508 lineal feet of CFS wall systems (1,106 CFS individual wall panels) and 97,236 square feet of floor systems in 14 weeks with a crew of 8 men. By panelizing the entire job the developer saved an estimated $250,000 in construction and in carrying costs.
Molds are types of fungi that release spores into the air to reproduce. They can be a huge threat to workers and, ultimately, to building occupants.
Building materials that remain wet for more than 48 hours, accompanied by moderate indoor temperatures, create ideal conditions for mold to proliferate. Water can infiltrate on job sites through leaking pipes or roofs, rainwater seepage, flooding, uncontrolled high relative humidity and construction practices that don't properly protect building materials from the elements.
However, CFS framing combats the onset of mold because steel is not organic matter. Rather, metal studs make an unappealing surface for mold to grow, helping to make job sites safer for workers.
BUILD STEEL
https://buildsteel.org/why-steel/cold-formed-steel-101/cold-formed-steel-job-site-safety/