Cold-formed steel (CFS) is a material that has been used in the construction industry for decades. The list of benefits to engineer and build with light steel framing steel studs, also known as cold-formed steel, is long and impressive.   This material is resilient and reliable, and will easily conform to the needs of the job.
Cold-formed steel framing is made from various thicknesses of steel sheets that are cold formed into specific sizes, and shapes.  This type of steel is strong and versatile, and can be used for a myriad of different building projects.  Cold-formed steel can be used both in residential and commercial, and it proves to be a very affordable option to satisfy the requirements for secondary and/or primary framing.
Here are 5 ways cold-formed steel can make your buildings safer…
The Proof is in the Details

Reduced Fire Risk

Strength in Natural Disaster

Extended Life Span

Quick & Precise
1. The Proof is in the Details
Cold-formed steel has a significant strength-to-weight ratio that vastly outranks other construction materials. Additionally, you can connect cold-formed steel to wood, concrete, or steel – an option that provides versatility that you simply can't achieve with every material.
When considering what materials to use that will streamline a project's structural design and construction, take a closer look at cold-formed steel framing  Light steel members are universally proven to simplify a complicated design, and designers find ease in detailing cold-formed steel framing in terms of connecting the materials to achieve the desired end result. Engineers also find comfort in knowing there are software options available that can help with the design logistics; however, it's important that designers still familiarize themselves with the specifics of the material, as well as the material's strengths and limitations, as they proceed through the design process.
Cold-formed steel is a fire-resistant material. The use of cold-formed steel can potentially save owners big money, in terms of reduced insurance costs and expensive sprinkler systems.
When combustible material like wood is used, there is a much higher likelihood that a building can sustain extensive fire damage and lives can be lost.  Cold-formed steel is non-combustible, which means it won't burn or fuel a fire. This also means that steel studs have the potential to limit structural damage, and provides the occupants with precious time to escape in the event of a fire.
Additionally, should a fire occur, light steel framing will not negatively impact air quality or produce toxic fumes.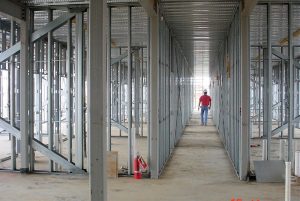 3. Strength in Natural Disaster
If Mother Nature is anything, she is unpredictable. In the midst of weather uncertainty, cold-formed steel proves its worth. When faced with natural disasters, such as hurricanes, earthquakes, and even tornadoes, cold-formed steel provides significant resistance and load capacity.
Yes, cold-formed steel offers superior strength; but it's the flexibility of the material that also gives it a unique edge. The compilation of cold-formed steel members allows the structure to better withstand strong winds, and when strategically placed, the steel members become the wind resistance for the entire building.
In times of flooding, hurricanes, and other natural disasters, the use of cold-formed steel could be the difference between whether a structure survives or faces total demise.
Cold-formed steel has an incredibly long life span. This material does not lose strength over time, and since it is impervious to corrosion, and rodent and pests there is no worry about structural deterioration from such.
When engineered and constructed properly with superior products, a CFS framed structure will remain just as strong decades down the road. Cold-formed steel is the solution to a building having a long and beautiful life cycle, that would require very little maintenance.
CFS can be used for construction even through the brutal winter months, which means construction utilizing this material has a much better opportunity to stay on track.  When we remove the element of hastiness from contractors trying to get a project back on track after a harsh winter, we automatically create a platform for inspections to stay on schedule, and for the structure to be safer through the use of proper and timely install practices.
Since the material is maneuverable and functional, CFS requires very little cutting or drilling. This is another massive time and labor saver that streamlines the entire project. 
Cold-formed steel can provide safety and security in a number of ways, which in terms makes your buildings safer.
Light steel framing tends to be easier to design and construct, and provides the Architect with an unlimited realm of possibilities without jeopardizing the structural integrity of the building.  You will also find a renowned sense of peace knowing lives will be saved with each structure that is built with the fire-resistant material, cold-formed steel framing.  And, rest easy knowing that your building can withstand the elements and stay strong despite uncontrollable weather circumstances. 
When you build with cold-formed steel framing you are using the best materials the industry offers, and that allows you to keep your project on track while constructing the job quickly and precisely. There is a reason why CFS continues to take the world by storm.  Stick with cold-formed steel framing to give your buildings maximum survival and protection.
METALFRAMING.ORG
https://www.metalframing.org/5-ways-cold-formed-steel-can-make-your-buildings-safer/