Prefabrication, the assembly of buildings or their components at a location other than the building site. The method controls construction costs by economizing on time, wages, and materials. — Britannica, "prefabrication"
I like to describe prefabrication as the "central kitchen." It's where all the preparation takes place for projects to run faster and smoother.
Prefab combines all the ingredients to prepare the less-sensitive items of a project well ahead of time and the riskier items as close to installation as possible. At the end of the day, prefabrication limits risk.
The construction industry has been practicing prefabrication techniques in various forms for decades. My grandfather was panelizing cold-formed steel (CFS) projects in a small St. Louis warehouse in the 1970s, so you don't need a huge factory with a bunch of fancy equipment to implement basic techniques. Rather, focus on the process. That's the most important place to start.

How is Risk Mitigated
One central piece to prefab is Building Information Modeling, or BIM.
When my team models an entire project in BIM software, we identify potential problems ahead of time. Modeling allows us to submit informed questions to the GC or the architect for answers. And we get those answers in time to be more productive. By using BIM, we're not "figuring out" the construction project as we go nearly as much. By eliminating wait times on answers, therefore, we can schedule our field personnel in a way to keep the project moving forward.
Of course, if you do not want to go down the BIM road you can always get measurements and sketches called in from the field, and you can use those measurements to prefabricate components.
However, it's a good practice to get field measurements even if you use a model to double check the project. Reality is often times different than the model.
How to Get Started — The Fundamentals
In many ways, the way to get started with prefab operations is very similar to the way you would operate a job site.
If there's a soffit that needs to be built, with multiple pieces of studs and other components, you could do that on site when you need to do it. Or, you can take that same process, a few days or weeks ahead of time, to an offsite location.

Precut studs. We often get precut studs from a drywall distributor for standard deck heights on a project. Stud manufacturers will also precut studs to many different lengths.
Plan ahead. Try to plan months ahead of time. Order more studs precut to the lengths you need and for the details that you choose are worthwhile to go after.
Start small. Run trials. Figure out what does and does not work for your company.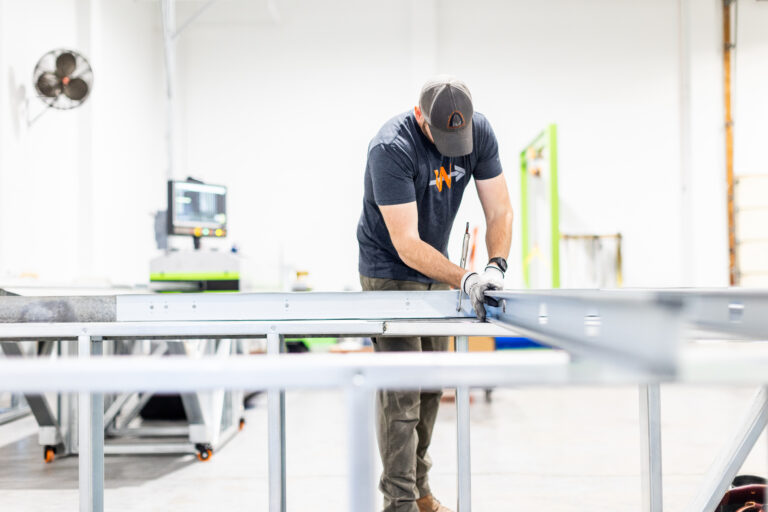 Production Methods 
How you go about producing components or buildings will vary depending on the project. That doesn't change with prefab. There are a variety of tools and strategies used for these processes. I'll outline a few:
Jig tables

Precut studs

Custom length drywall

Drywall routing machine

Steel stud roll forming machine
There are other machines, materials and products that could be used. But this covers most of the methods. Some methods involve an industry standard, like custom-length drywall or precut studs.
However, when you leverage more detail, you can maintain a stock of those items in your garage or warehouse, which allows you to do more pre-assembly work than what you previously accomplished.
The Steel Framing Advantage
Cold-formed steel (CFS) leads the way as the preferred framing material for prefabricated structures for multiple reasons. CFS is:
A

pre-engineered material

that can be cut to exact lengths

Dimensionally stable

and does not expand or contract with changes in moisture content

Lightweight

compared to wood and concrete

Resilient and

will not warp, split, crack or creep when exposed to the elements

Sustainable

and 100% recyclable

Durable

and has a high tensile strength
Non-combustible and is a safeguard against fire accidents

When Prefab Makes Sense 
It's important to note that what works for one company, might not work for another.
There's a lot of glitz and glamour around prefab. However, if prefab is not helping your projects to run smoother and faster, then don't use it. Use prefab only when it makes the most sense to the project itself.

Use this simple analysis:
                               on-site time vs. off-site time vs. fuel cost vs. hassle
Up front, everything will seem like a hassle. You're changing how your company operates after all. Give it time, then reassess. You choose when to get started with prefab.

There are plenty of resources out there to help you. Industry organizations, consultants, manufacturers and other contractors are often more than willing to help you on the journey.
BUILD STEEL
https://buildsteel.org/prefabrication/cfs-prefab-101-what-is-it-all-about/