Cold-formed steel framing presents designers and contractors with some significant advantages
For the average person, cold-formed steel framing (CFSF) is hardly anything to get excited about. As with most structural products, the thought process of the everyday man is sort of "out of sight, out of mind." Once the frame is covered up, it tends to be forgotten. However, for those of us in the cold-formed industry,
CFSF (especially pre-fabricated cold-formed panels and trusses) can be pretty exciting! The tradition-bound world of construction has always been slow to embrace new technologies. Adoption rates for new products can be measured in decades. Such is the case with cold-formed framing; a product that has taken quite some time to evolve into an everyday material in nonresidential construction. However, when compared with other load-bearing materials framing materials, such as structural steel, concrete and CMU, cold-formed steel framing presents designers and contractors with some significant advantages.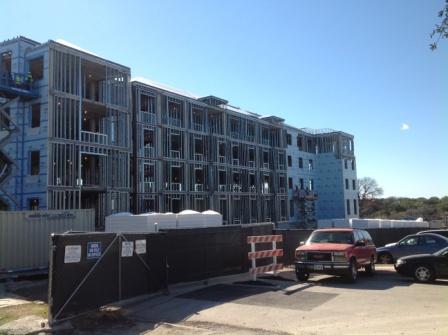 CFSF offers as a tremendous strength-toweight ratio, resulting in strong, but light structures.This is especially valuable where existing soil conditions might limit the height/weight of building constructed with traditional materials. CFSF is ideal for low/mid-rise structures requiring non-combustible construction. Coldformed load-bearing walls and roof systems are often designed for structures of two to six stories where Type I or II construction is required due to building height, occupancy or end-use. The wide range available of sizes and mil thicknesses of metal framing products offers engineers flexibility in selecting the proper material. Cold-formed walls can either be "stick framed" or pre-fabricated. Another efficient means of incorporating CFS is pre-fabricated components. Factory-built CFS components, such as wall panels and roof trusses, offer numerous advantages.
Speed. With wall panels, each level of a structure can be framed out in the matter of a day or two, versus a week or more with conventional framing. Panelizers can pre-install sheathing, bracing and even doors and windows, further reducing "dryin" time. The same is true with pre-fabricated roof trusses, which are much faster and safer to install than "stick framing." The bottom line is: prefabricated components are the fastest and most efficient way to build a building.
Beat the elements. Delays due to inclement weather are much less of an issue with prefabricated components. Rain or shine, hot or cold, climate-controlled fabrication facilities can continue to produce panels and trusses.
Technology. Leading CFS component manufacturers (CM) utilize highly sophisticated software tools to model, engineer and fabricate customized framing solutions for literally any construction challenge.
Inspired design. The aforementioned design software utilized by most CMs affords a breathtaking level of design flexibility, especially in roof systems. Intricate, geometrically complex roof lines can be efficiently and accurately modeled, with precise engineering of the underlying framing elements (trusses) literally at the fingertips of experienced truss designers.
Quality control (QC). The controlled environment of a factory allows for the implementation of rigorous quality control procedures. Many coldformed CMs utilize sophisticated laser projection systems to help set precise jigging templates. Automated cutting equipment ensures accurate dimensioning. All reputable CMs will have established QC programs, and many submit to third-party inspection programs for an added level of compliance.
Cold-formed steel framing also offers green benefits to developers and occupants alike. According to the Steel Recycling Institute, the recycled content of CFS can range from 30 to 70 percent or more. As such, the use of cold-formed steel can assist in achieving points under U.S. Green Building Council's LEED program.
Cold-formed steel framing, and especially prefabricated cold-formed components, clearly deliver significant benefits to the entire building team. As with any successful construction project though, the key to tapping into the potential of CFSF is clear, concise and timely communication between all constituents-owners, architects, engineers, general contractors, framing contractors, component manufacturers and material suppliers. With proper coordination, the results can be spectacular.
METALCONSTRACTIONNEWS.COM
https://www.metalconstructionnews.com/articles/the-positives-of-cold-formed-steel-framing